How the elevator changed everything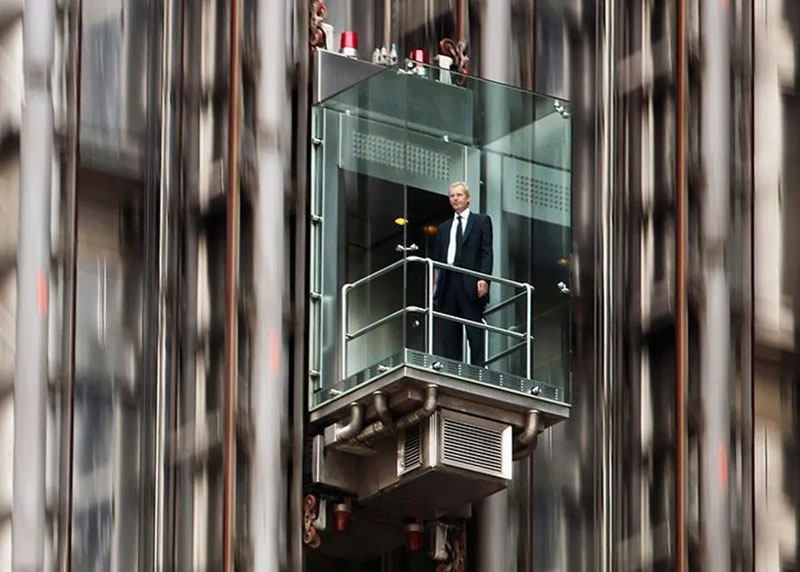 The invention of the elevator enabled a whole new type of architecture – and had a profound effect on our culture, writes Jonathan Glancey.
Scary stories about elevators are a dime a dozen: lurid tales about lifts are ten a penny. Lifts and elevators are, of course, one and the same thing, yet whatever you choose to call them, they have long evoked fears of being trapped inside or of plunging to death down dark, vertiginous shafts. A gift to filmmakers, the elevator was as its nastiest in De Lift, a 1983 Dutch shocker directed by Dick Maas in which an elevator fitted with a bio-computer brain finds nasty ways to kill those unwittingly foolish enough to ride it.
As an antidote, watch Alfred Hitchcock's North by Northwest. In one scene of this immeasurably stylish 1959 thriller, Roger Thornhill (Cary Grant), an advertising executive mistaken for a spy rides a busy hotel lift along with his mother, hotel guests and a pair of murderous bad guys. The tension is broken when mother  says, ever so politely, "You gentlemen aren't really trying to kill my son, are you?" Cue polite and then increasingly hysterical laughter from those crowded in to the lift including the thwarted gunmen – as Grant stares grimly ahead.
The famous moment from North by Northwest when Roger Thornhill's mother single-handedly foils a plot to kill her son in a hotel lift (MGM)
Lifts have engendered such heightened fears and emotions ever since Elisha Graves Otis demonstrated his elevator safety brake at the New York Exhibition of the Industry of All Nations in 1853. Standing on a high platform, this showman-inventor ordered the rope holding him up severed with an axe. Almost before the crowd below had time to gasp, the lift would grind to a sudden halt. Repeated many times, this theatrical demonstration convinced the world that lifts were safe. They had existed for at least 2000 years – Vitruvius, the first century Roman architect, noted a design for one by Archimedes dating from around 235BC – but Otis proved they were safe for everyday use.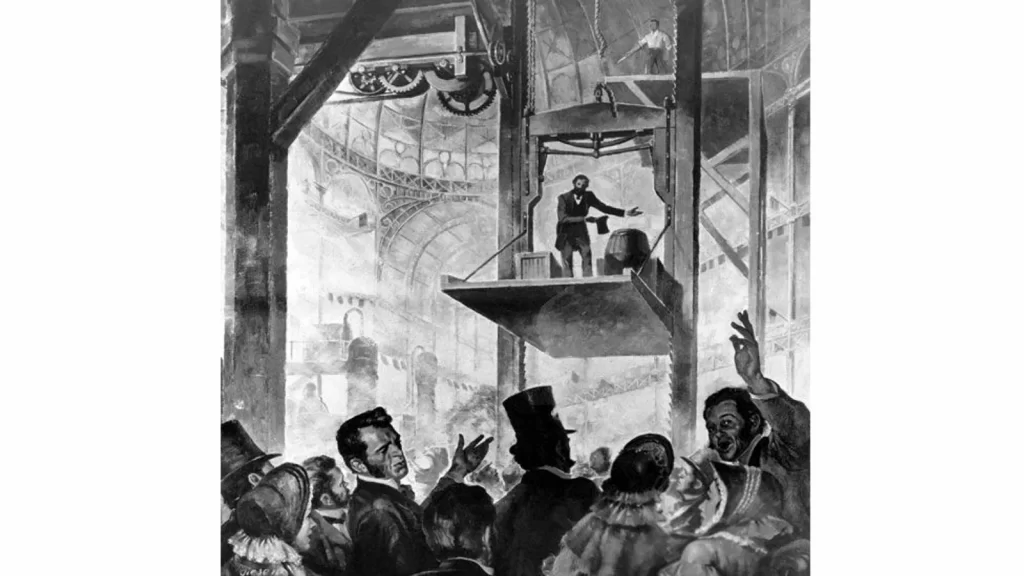 Elisha Graves Otis demonstrates his elevator safety brake at the Exhibition of the Industry of All Nations in New York in 1853 (Bettmann/Corbis)
Going up
In 1857, the first – steam-powered – passenger elevator was installed in the new E V Haughwout Building on New York City's Broadway. Designed by John P Gaynor, the department store selling china, glass, silverware and chandeliers boasted facades modelled on those of Sansovino's 16th Century St Mark's Library in Venice. This, though, was the modern world, so the facades were forged in cast iron. As for the elevator, it was an indulgence: the Haughwout Building, which is happily listed and restored today, was just five storeys high. While this had been the typical maximum height of commercial and residential buildings before the advent of Mr Otis's reliable lift, Eder Haughwout knew customers would make a beeline to his store just to ride the elevator.
From then on, the lift ascended with the rise of the tall buildings it made feasible. Over the past 150 years, elevators have proliferated in a surprising number of guises. Although most became little more than functional boxes spun up and down dark shafts, others became spectacles in themselves. The lifts Otis built for the Eiffel Tower are wondrous things. Those climbing up the first two stages of the tower are double-deckers tracking the great curves of the iron lattice structure as it rises above the Champ de Mars. The lifts offer eye-boggling views not just of Paris but also of the mesmerising ways in which Eiffel pieced his unprecedented tower together.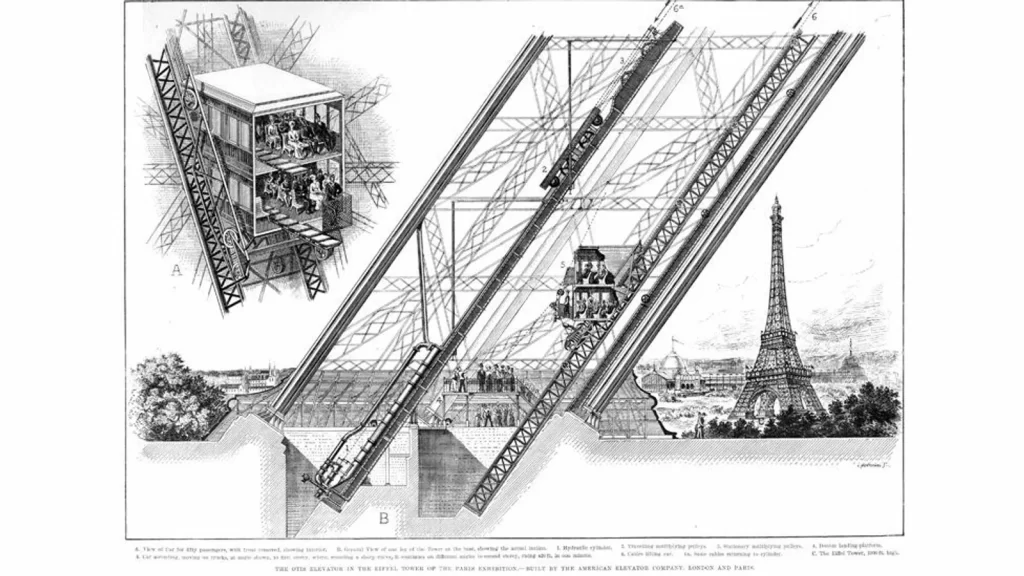 An illustration from 1889 shows the workings of the Eiffel Tower's lifts (Oxford Science Archive/Print Collector/Getty Images)
Otis provided the 73 elevators that run up and down the Empire State Building. Getting to the top of this magnificent Art Deco skyscraper requires a change of 'cars'. This is partly because, like some elongated ziggurat, the tower steps down in bulk as it reaches ever higher above Fifth Avenue, but also because there was, and is, a safe limit for lifts determined by the strength of the steel cables that raise and lower them. Only last year, Finland's Kone lift company announced new carbon-fibre ropes that, lighter and stronger than steel, will allow a new generation of lifts to climb to beyond one kilometre. So with a single change of lift, you will, soon enough, be riding to the rarefied peaks of buildings higher than a mile.
Frank Lloyd Wright, the flamboyant American architect had proposed a one mile-high skyscraper for Chicago – The Illinois – in 1956, but lift technology lagged behind his gung-ho vision. Wright proposed "atomic elevators"; we are certainly wiser to rely on steel and carbon-fibre ropes than on 1950s ' Science Fiction concoctions that might have fried us before we reached the viewing platforms and penthouses of The Illinois.
On top of the world
Penthouses were the glamorous top-floor apartments that, from the era of North by Northwest, spelt a new and largely male-oriented glamour. Now the lift was so reliable, it could rush the wealthy to the tops of buildings commanding master-of-the-universe views. Where top floors of city buildings had once been attics and servants' quarters, the lift had made them the most sought-after accommodation available. Brooklyn-born Bob Guccione, a Catholic boy of Sicilian descent, made a fortune with Penthouse, an 'international' glamour magazine for medallion men, launched in 1965 as a competitor to Hugh Hefner's Playboy. Without Otis's safety brake, there would have been no international playboys living at the top of tall city buildings, and, of course, no Penthouse or Guccione fortune.
For those without fortunes, however won, there are thrilling journeys to be had by lifts around the world. Elevators, boasting whizzy lightshows, rocket to the heights of Dubai's Burj Khalifa – the world's tallest building – at speeds of up to 60km/h. Glazed elevators in atrium hotel lobbies, notably in the USA, offer gap-mouthed rides through vertiginous interiors. The glass lifts that scale the exterior the 1980s Lloyd's Building, designed by the Richard Rogers Partnership, remains one of the most eye-catching sights in the confined streets of the City of London.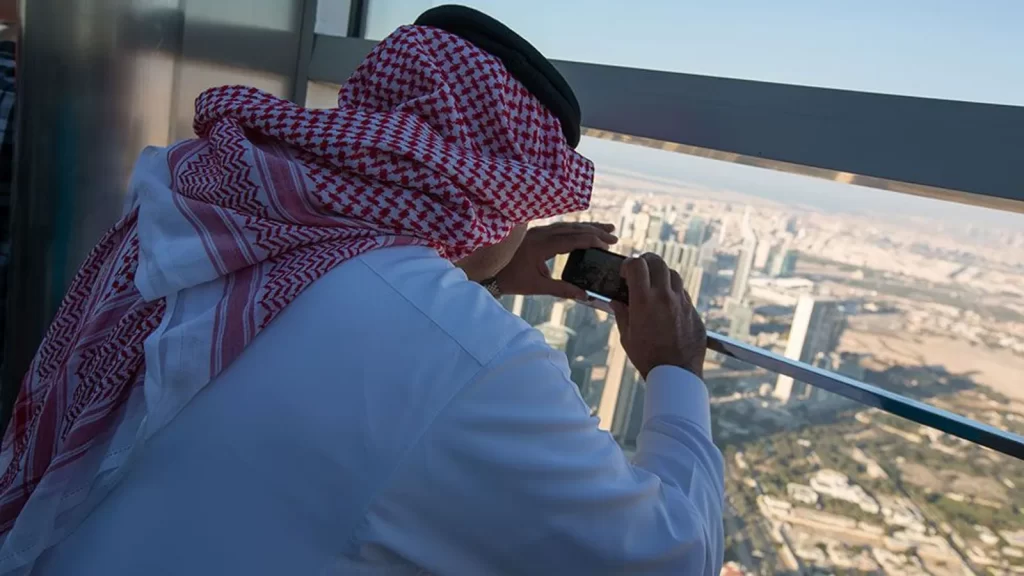 Dubai's Burj Khalifa –- the world's tallest building – has an lift that can reach speeds of up to 60km/h (Jeremy Sutton-Hibbert/Alamy)
Everyone will have a favourite dramatic lift ride. Mine is the one up from the centre of the ground floor of the vast interior of the Mole Antonelliana in Turin.Completed in 1889, this improbable building has been Italy's National Cinema Museum since 2000.Its glass elevator is suspended in free space and rises up into and through the building's coffered dome. Just as the apex of the dome seems about to crush the tiny lift, it shoots through a tiny oculus and comes to a welcome stop with peerless views of the city and mountains beyond.
There are Paternoster lifts – named after rosaries – comprising chains of constantly moving, doorless boxes that you step in and out of gingerly; cage lifts that plumb the depths of coal mines; and the roller-coaster or tram-like elevator that carouses up and around the astonishing 192-metre high Gateway Arch in St Louis, Missouri, designed by Eero Saarinen and opened to the public in 1967. There is also the curious lift – lined in polished brass, Venetian glass and green leather – that climbs 124 metres inside the Kehlstein peak in the Bavarian Alps to reach the Eagles Nest, a mountain retreat built as a 50th birthday present to Adolf Hitler and now a restaurant and beer garden. Elisha Otis set something in motion in 1853 that refuses to back down, a form of vertical transport that changed architecture – and culture – forever while reaching mountain peaks and continuing to tease our collective imagination.