Elevator monitoring system
For the first time we managed using domestic software and hardware tools to monitor and control elevator operation; as a result we obtained optimal management of service and maintenance, whether the elevators belong to our company or not.
Using this system we can now:
- Monitor the passengers and the elevator online
- Observe obstacles and errors online
- Analyze previous data in order to predict upcoming events and obstacles
Data is transformed through a secure and incomparable online protocol to the servers. Mohaymen Company, in charge of designing this system, is collecting and organizing data in different projects observing consumer's privacy right.
The transferring data are as follows:
- All 110V safety series signals.
- All 24V input and output signals on the control panel.
- Three-phase input voltage and current values in the panel.
- Signal for floor and cabin buttons.
All the electronic board design and system architecture processes have been carried out by ISATIS Mechatronics specialists and its software has been developed by Mohaymen Company, one of the leading ICT companies and ISATIS business partner.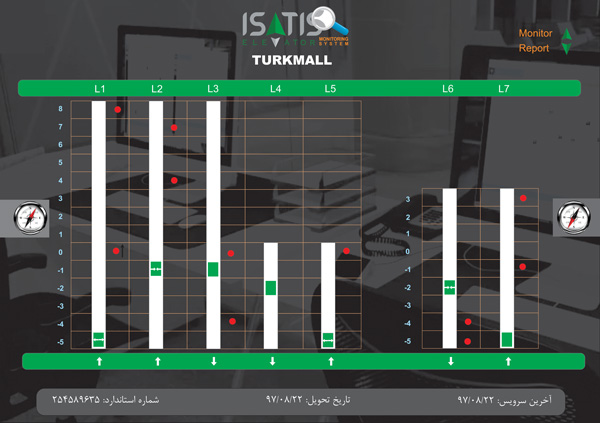 Advantages:
This system will be useful for monitoring and managing elevators, especially in complexes that have multiple elevators or owners of several separate buildings that wish to monitor and control their elevators simultaneously.
With the help of this system:
- Traffic status as well as errors can be viewed online.
- The function of the various lifts will be grouped.
- A report of the recorded errors of each elevator will be available for further analysis.
- Power fluctuations that cause problems for the steering wheel and elevator can be recorded.
- The exact time of turning off due to technical problems can be observed.
- The time and type of error can be reported to the target people via SMS.